Research
---
Animation
This project is about automatically generating vivid motions for 3D Avatars. Related topics are complex human motion synthesis, long-term inbetweening, the continuity problems in motion representation and secondary motion synthesis.
Publications:
A DEEP EMULATOR FOR SECONDARY MOTION OF 3D CHARACTERS
Mianlun Zheng, Yi Zhou, Duygu Ceylan, Jernej Barbic
CVPR 2021 (Oral Presentation) [paper] [project page]
GENERATIVE-TWEENING: LONG-TERM INBETWEENING OF 3D HUMAN MOTIONS
Yi Zhou, Cynthia Lu, Connelly Barnes, Jimei Yang, Sitao Xiang, Hao Li
[paper] [project page]
ON THE CONTINUITY OF ROTATION REPRESENTATIONS IN NEURAL NETWORKS
Yi Zhou*, Connelly Barnes*, Jingwan Lu, Jimei Yang, Hao Li
CVPR 2019 [paper] [project page]
AUTO-CONDITIONED LSTM NETWORK FOR EXTENDED COMPLEX HUMAN MOTION SYNTHESIS
Yi Zhou*, Zimo Li*, Shuangjio Xiao, Chong He, Zeng Huang, Hao Li
ICLR 2018 [paper] [video]
---
3D Learning Architecture
This project is about designing efficient neural network architectures for general 3D learning tasks.
Publication:
FULLY CONVOLUTIONAL MESH AUTOENCODER USING EFFICIENT SPATIALLY VARYING KERNELS
Yi Zhou, Chenglei Wu, Zimo Li, Chen Cao, Yuting Ye, Jason Saragih, Hao Li, Yaser Sheikh
Accepted by Neurips 2020 [paper] [project page]
---
Hair
The project is about finding the deep representation for 3D hair geometries and automatically tracking and reconstructing human hairs from single or multi-view cameras. We designed the first deep neural neural network that can fastly infer high-resolution 3D hairs. We also provide an open-source [dataset] that contains 40 thousand synthetic hair models.
Publication:
SINGLE-VIEW HAIR RECONSTRUCTION USING CONVOLUTIONAL NEURAL NETWORKS
Yi Zhou, Liwen Hu, Jun Xing, Weikai Chen, Han-Wei Kung, Xin Tong, Hao Li
ECCV 2018 [paper] [video]

---
Face
The project is about Track the expressions and textures of the face from videos, then synthesize new facial images and video with given expressions, e.g. swap the face between two videos.
Publication:
REALISTIC DYNAMIC FACIAL TEXTURES FROM A SINGLE IMAGE USING GANS
Kyle Olszewski, Zimo Li, Chao Yang, Yi Zhou, Ronald Yu, Zeng Huang, Sitao Xiang, Shunsuke Saito, Pushmeet Kohli, Hao Li
ICCV 2017 [paper] [video] [additional materials]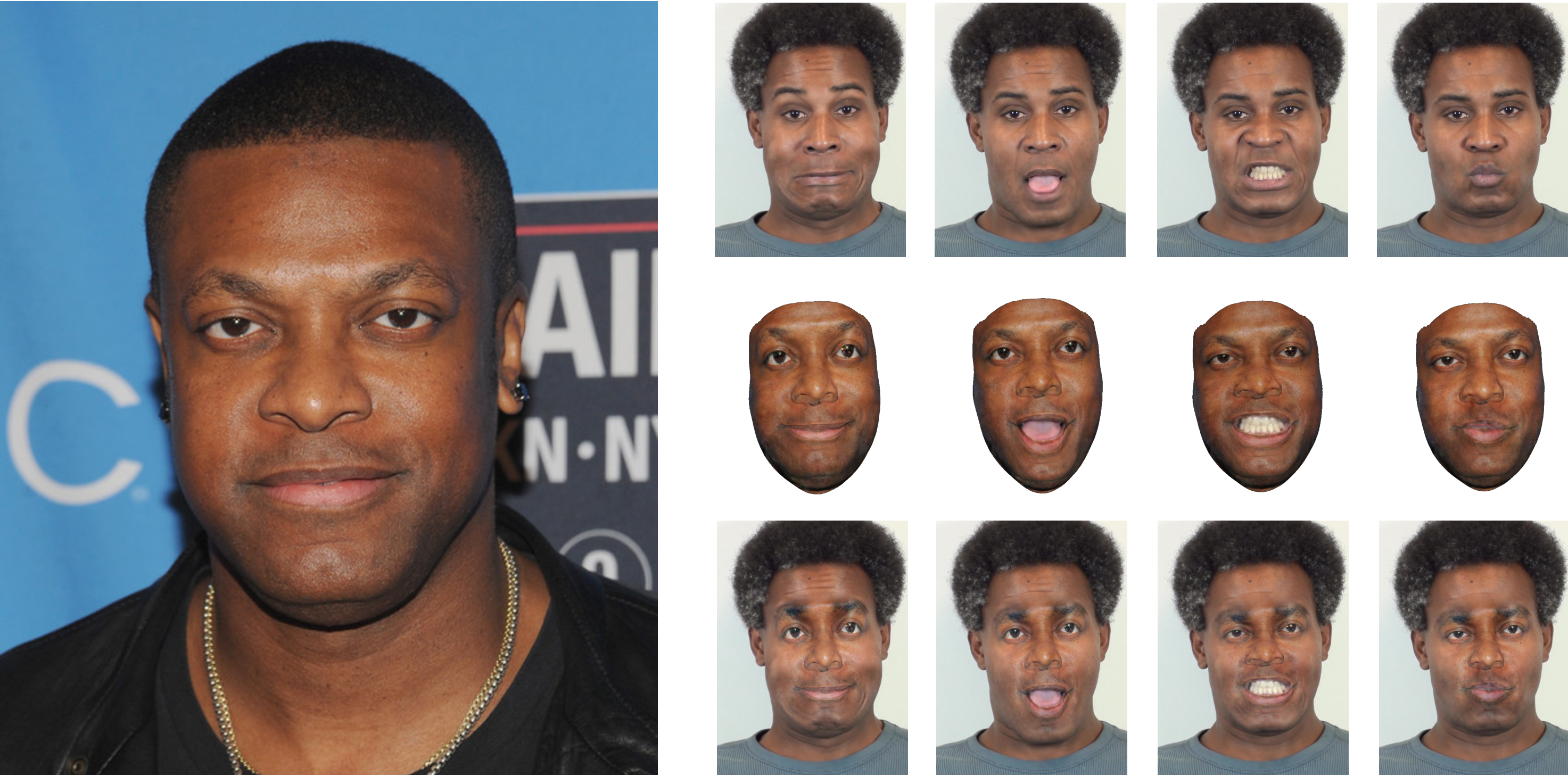 ---
Augmented Reality
Inspired by the hologram system in manga "Psycho Pass" I design the Pmomo (projection mapping on movable object) system to create the phantasm of real-world objects being covered with virtual exteriors. As supporting 6-DOF object motion, the system can keep tracking the object and projecting 3D texture on its surface in real-time. Meanwhile, occlusions are culled from projection as to improve the sense of realism. In the picture left, the models held in the user' hands were originally white but now rendered with vivid textures by projection.
For watching the demonstration videos: [preview] [surprise] [demo]
Publication:
PMOMO: PROJECTION MAPPING ON MOVABLE 3D OBJECT
Yi Zhou, Shuangjiu Xiao, Ning Tang, Zhiyong Wei, Xu Chen
CHI 2016 [paper]

---